Heather's Page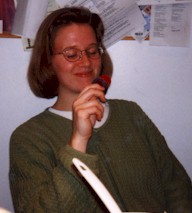 I'm Heather and the proud wife to Rich, and equally proud stay-at-home mom to Ryan, Michael, Matthew, Emily and Jillian.
I have a real passion for childbirth and midwifery and when I'm done having my own babies and raising them, I plan to become a midwife, myself. Until then, I am teaching prenatal classes and doing birth and postpartum doula support,as well as breastfeeding counselling through Island Childbirth Education.

You can read about my five different births here:
Ryan's Birth Story
Michael's Birth Story
Matthew's Birth Story
Emily's Birth Story
Jillian's Birth Story
If you want to learn more about normal, healthy pregnancy and homebirth, come to my All About Normal Birth page.

Here are links to some pictures and stories of me as I am now, and as I grew up:
At Home As A Child
My Teens
At Ricks College
Dating Rich
Marriage Day
Us (Before Children)
Family Life
Thanks for checking out my webpage!