Michael's Page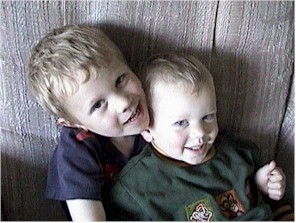 Hi! I'm Michael and I'm 4 years old. I'm a great climber guy and can get into our plumb tree with no problems at all.
I have an older brother, Ryan, whom I miss as he goes off to grade one, these days. But when we pick him up after school is over, we get to play on the playground for a bit, usually, so I guess that's okay.
I also have a younger brother, Matthew. We do more together these days. He's old enough to wrestle with and together we can unassemble the backyard in short order.
I'm also a new big brother to Emily. She's a cutie little baby and I loooove making her smile. She just loves me.
Here are links to some pictures and stories of me as I am growing up:
When I Was Born
1997
1998
1999
2000
Click here to see some of my artwork.

Thanks for checking out my webpage!