Rich's Page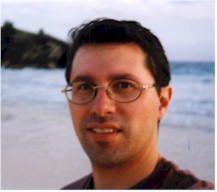 Yup, that's me... Rich. I am married to Heather and have three wonderfully healthy and ACTIVE boys, Ryan, Michael and Matthew. They keep us on our toes and very busy. We'll be adding one more to the crew in early May 2001. Won't we be a full house.
I am an Operations Manager for a small dot.com type company. We recently went public so we'll see how the stocks do and if we make our fortune or not. When I'm not working there, I may be found downstairs in our home-office, building and designing websites for our home business, "Msystems Consulting".
Here are links to some pictures and stories of me as I am now, and as I grew up:
At Home As A Child
The Teen Years
My Mission in Brazil for the L.D.S. church
Young Adult/University Life
Dating Heather
Marriage Day
Us (Before Children)
Family Life
Thanks for checking out my webpage!