Ryan's page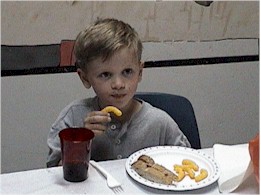 Hi! I'm Ryan and I'm 6 years old. I just started grade one, and decided to try public school this year instead of homeschooling again with my mom. Mommy still cries about me leaving, but I leave love notes around the house to let her know I still love her and it's okay.
I am a big brother to Michael, Matthew and Emily. I'm also a big helper for mom. I can put the dishes away after the dishwasher is clean. I can make toast or cereal for my brothers in the morning. I enjoy washing windows and vacuuming the van. I think it makes my mom and dad happy when I help out like that. I just do it because it's fun.
My recent endeavors include selling juice and plums at a stand in our front yard. I've had good business and even a few regular customers. My prices are so reasonable that I usually get a tip (it helps that I'm still learning to make change!). I'm saving up to buy a spiderman costume.
Here are links to some pictures & stories of me as I am growing up:
When I Was Born
1995
1996
1997
1998
1999
2000
To view some of my artwork, check out my artwork page:
Ryan's Artwork
Thanks for stopping by my webpage!