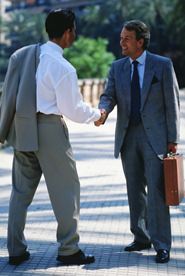 We Help You Create Competitive Advantages
Msystems consulting helps small to medium size ogranizations use information systems to create competitive advantages in the marketplace for themselves. Whether it be by developing an interactive web site for customer service and sales departments, or developing a web based help desk application, we have the skills to do the job right.
Customer Focused Approach
Our approaches to use a customer focused product development, so that we can satisfy both internal and external customers. Managers get the information and results that they need, and the end users have all the functionality and ease of use they need from the product.
If your needs include Web Applications, Intranet applications, Database Design, please get in touch and we will give you our honest opinion as to whether or not we can provide an appropriate, cost effective solution to your problem. If we can't, then we'll point you in the direction of someone that can.